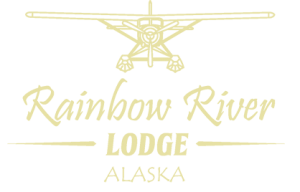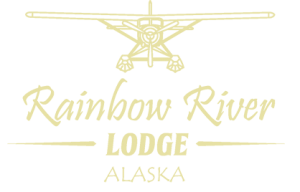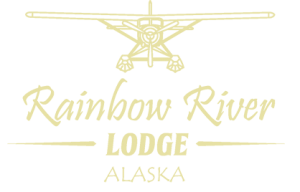 THE KIND OF ALASKA FLY FISHING LODGE MOST ONLY GET TO DREAM ABOUT
Wild, trophy-sized rainbow trout….in great numbers! Alaska is famous for its salmon fishing, but that is just part of your experience when you can combine the best salmon fishing in the world with trophy-sized rainbows…
Well, it just doesn't get any better than this! Come enjoy it with us….at an Alaska fishing lodge of this caliber only equal to its fishing – Rainbow River Lodge. If you've never been to an Alaska fishing lodge before, be forewarned that after spending a week here, one never goes all the way back home. You will find yourself forever after feeling a compelling urge to return.
Rainbow River Lodge is located on private land in the heart of Alaska's phenomenal Bristol Bay and Lake Illiamna "Trophy Alaska Rainbow Trout" watershed, conveniently adjacent to the Katmai Wilderness. The fly fishing lodge offers magnificent views of the Alaska wilderness and the "Home River" is the beautiful Copper River, one of Alaska's original "fly fishing only" designated streams.
Rainbow River Lodge has been rated as one of the "ten best fly fishing lodges in Alaska" and the Copper River, our "Home River" has been rated by Trout Unlimited as one of the "top 100 best Trout streams in the world". Truly outstanding accolades from the finest fly fishing authorities in the world today.
"Everything about our stay at Rainbow River Lodge was memorable, but the hospitality we received from you and the staff served to tie together all the weeks adventures. As you know, I have fished in a lot of places in the world from Canada to New Zealand but I've never seen anything to equal the Rainbow trout of the Copper River… Their size, number and fighting ability in the crystal clear water make the Copper worthy to be called a trophy stream. I am sure that I will never land the equal of the 30-inch Rainbow that finally took my yellow stonefly nymph nor the many large trout we caught on dry flies during the caddis hatches."
– Jimmy Carter, US President
What is the guide to fisherman ratio?
We have 7 guides on staff for a max of 14 fishermen.  We are very proud of our guide team.  No young kids here that are just going to take you on a boat ride or a hike.  These are all older professional men who have made guiding their life.  They have multiple seasons of guiding in our area with valuable local knowledge of our fisheries guaranteeing you a great day on the river.
Does the lodge provide fishing equipment?
If you don't have the proper rod selection for your week of fishing or just don't want the hassle of traveling with your rods, we will provide you with the necessary gear. Iliamna River Lodge provides rods, reels, flies, leaders, tippet and everything else needed to fish our rivers.  We also provide waders and wading boots.  You can leave your waders at home or bring your own.  This has been a great service for our guests (NON-felt bottom wading boots per Alaska Department of Fish and Game rules and no-studs).  We ask that you bring a  great Gore-Tex rain jacket .  In case you forget it though, we have a stocked pro shop at the lodge for all your needs.     For more info on this please refer to our equipment page.
VISIT OUR OTHER EPIC LODGE AND OUR FLOAT FISHING PROGRAM
Call Toll Free: 888.234.9552