THE WILD OF ALASKA BY DAY,
 


COMFORTS OF HOME BY NIGHT
Our Fishing Lodge… is sitting in not only the heart of Alaska's best fishing area, it is likewise surrounded by typical breath-taking Alaskan scenery. Nestled among pines overlooking a small picturesque lake from which our float planes land and take off, the lodge and our guests have easy access to countless rivers teeming with wild rainbows trout and salmon. The famed Copper River (that we long ago nicknamed 'Rainbow River') is just a little more than a stone's throw away.
Rainbow River Lodge was founded and built after the Alaska Department of Fish & Game discovered the abundant wild rainbow trout in the Copper River years ago while doing a state-wide survey project on all Alaskan rivers. They were so impressed with the rainbow trout in the Copper River that they named it the "Rainbow River". Now with over 25 years in operation, Rainbow River Lodge has become a legend itself and one of the finest fly fishing lodges in Alaska.
Luxury and comfort… our main concern for our guests. We pay close attention to every detail and top it off with a touch of wilderness esthetics.
Rainbow River Lodge has a most unique bar, created by a very talented artist. These are life-size fish replicas cast of aluminum then arranged and welded together to form the structure of the bar. It's a conversation piece unlike anything you've ever seen before.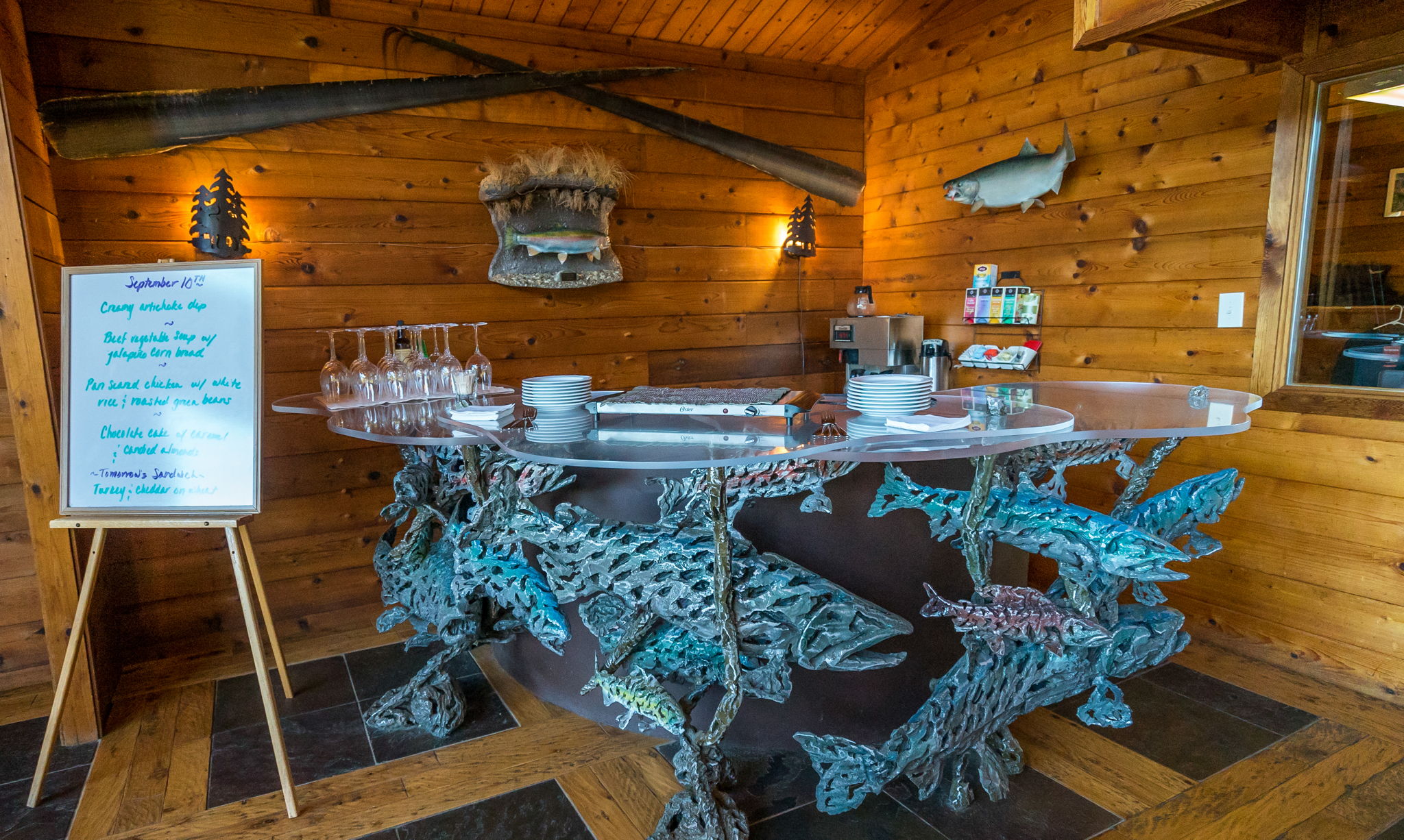 Tasteful, elegant mountings including a life-size grizzly bear, lend atmosphere to the main Alaska lodge.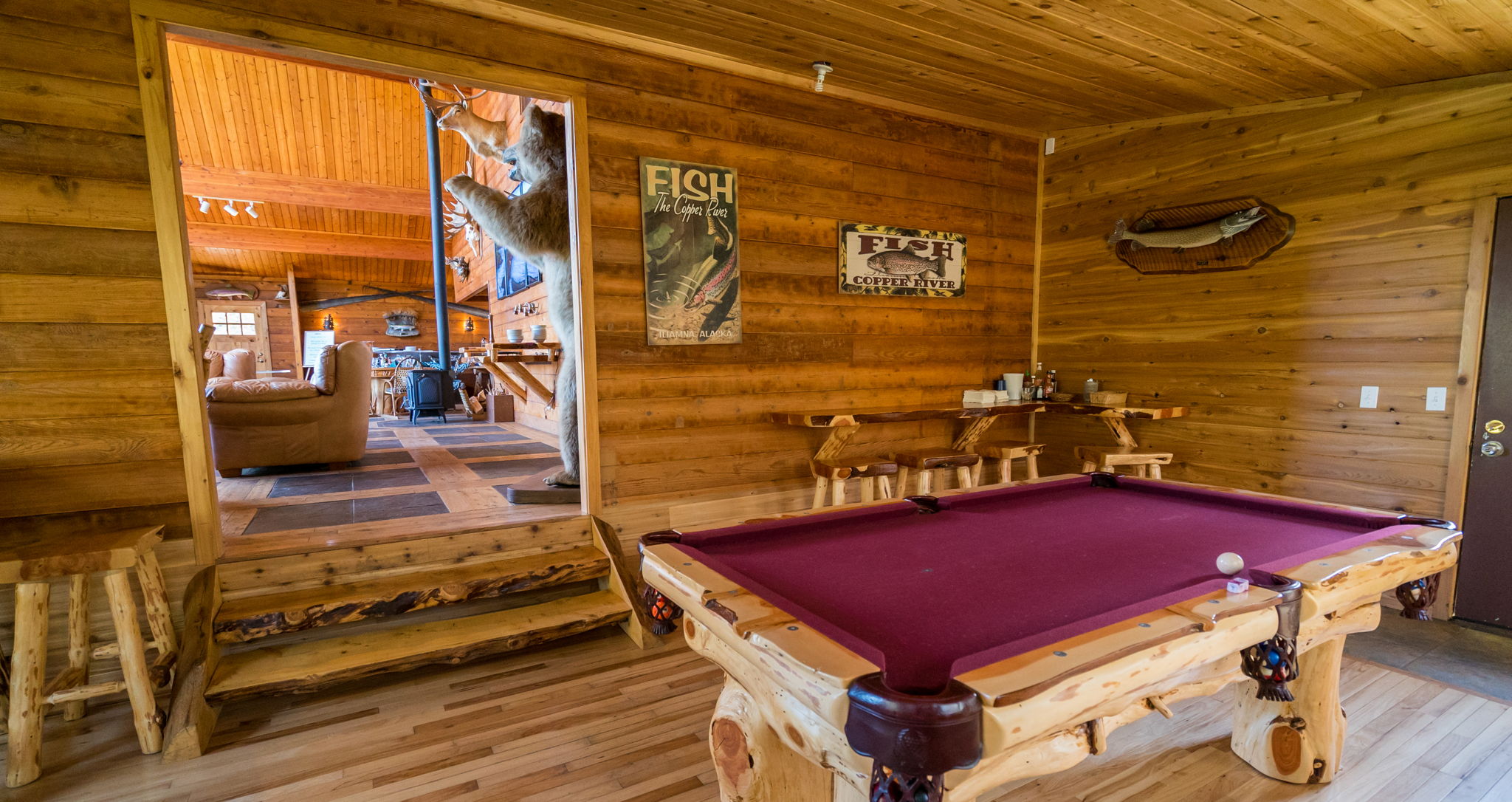 Dinners like one would find in finer restaurants are served here in the main lodge. The bell for breakfast rings early for anglers anxious to get out and fly fish this treasured Iliamna Lake region of Alaska. Dining or relaxing the lodge provides the perfect setting for many pleasant moments of conversations and memories.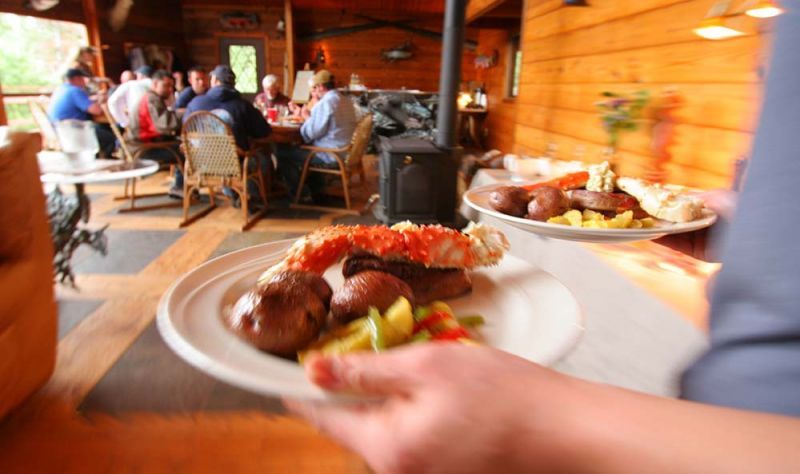 Call Toll Free: 888.234.9552